This article is about the location. For the animated show, see Geoshea World (TV series).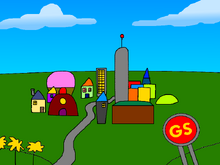 Geoshea World is a fictional city and a main setting of Geoshea World located in New York. The city has a population of about 468. Geoshea World is also home to almost all of the characters in the show.
Location
Geoshea World is located in the state of New York.
Landscapes/Geography
Geoshea World's geography is shown as consisting of mountains, forests, lakes, lagoons, caves, trees, flowers and rivers. Major geographic features have colorful names including:
The city is divided by its main road, Richard Street, which runs from downtown, past the homes of Gru, The Simpsons and SpongeBob, through the McDonald's restaurant, The Target shop and the AMC Cinema.
Establishments
Restidential
Geoshea World has houses. All of the main characters have one and some are different.
​Health
Geoshea World has its own health department and hospitals open for its restidents:
​Entertainment
Exercise
Dining
Appearances
The city appears in episodes, films, video games and others.
Trivia
The title of town is a parody of 123 Sesame Street.